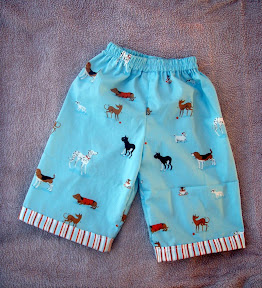 Made from the Lightning Bugs & Other Mysteries range by Heather Ross. These are a great pair of summer pants for Alastair - a funky, comfy wide leg design in lightweight quilting cotton. I love co-ordinating quilting ranges like this.
I should have been studying, but I had a headache all day and it was easier to sew. (I know I should have ironed the crease out of the fabric, but I'm lazy like that.)
Emma's "Monica" knitted tank top is coming along nicely - the main body is finished and I am halfway through knitting the ruffle. Once that's done I just attach the two and work up some straps. I adapted the pattern to knit in the round, which is great except that for the ruffle I have 260 stitches on the needles, which gets a little tedious (though good mindless TV-watching knitting).