I finished 'Monica' for Emma: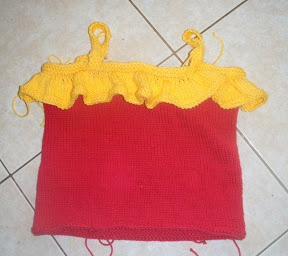 Modifications:
- I altered the pattern to knit it in the round
- Yarn substitution: I used Debbie Bliss Cotton DK instead of Brown Sheep Cotton Fleece
- I shortened the frill
It looks short and squat in this photo, but it does fit quite well. The 3 rows of garter stitch at the bottom was NOT enough to stop the roll, so I might unpick the cast-on edge and add more. Obviously it still needs ends woven in and to be washed and blocked.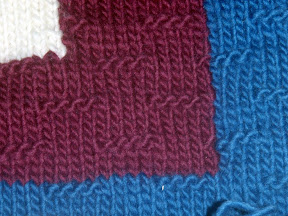 This is a present for a dear friend of mine. I don't want to go into details in case she reads this blog (might go over and post on my LJ in a friends-only entry). It's the first time I've knitted with a single-ply yarn and now I know what people were talking about when they say it makes the stockinette stitch look twisted! I quite like it though, and the yarn is lovely and soft. I really wanted Western Australian wool, but the yarn shop we were passing by (Yarns on Collie in Freo) didn't have any suitable WA yarn in the right colorus - this is from NZ. I knew I wouldn't get to any other yarn stores in time, so I went with it.
Anyway, this WIP has been my study-break knitting - it's perfect for that as it's simple, but the texture pattern breaks up any monotony, as does the intarsia (colour change). This is the first time I've done any kind of colourwork and I don't think it looks too bad.